Community Owned & Locally Controlled
Grand Haven is extremely fortunate to own and operate a municipal electric system. The service response times are fast, the system is very reliable and is improving as new investments are made into system components and technology. The utility employees are hometown people who treat their customers like the friends and family that they are. What sometimes gets overlooked, however, is how much more competitive and affordable the cost of electricity is from a municipally owned electric utility like the Grand Haven Board of Light and Power (BLP) as opposed to a privately owned electric utility supplier. As a nonprofit community-owned resource, Grand Haven BLP customer/owners benefit daily from rates that are lower than those of our neighboring private utility, Consumers Energy. These savings are significant and that translates directly to money back in your pocket each and every month.
What's on my electric bill?
While I work for the BLP, I live in Grand Haven Township and receive my electricity from Consumers Energy. For the most part, I am happy with their service and I believe they are a very good company. I also have friends, neighbors, and even family members that are or were at one time Consumers Energy employees. However, after moving to Grand Haven and upon starting to work for the BLP, it did not take long to see how much money my family would save each month if we were being serviced by my employer rather than my current supplier. 
I spent some time over the last year reviewing my own Consumers Energy bills. A Consumers Energy residential bill currently has 12 different line items that contain multiple charges each month. It can be a bit confusing to figure out. By comparison, a residential bill from the BLP has only 4 line items. The BLP has kept their rate structure simple and easy to understand. Consumers Energy also charges more in the summer months during times of higher priced energy. Like most utilities, Consumers Energy is now moving towards time of use rates in which electricity will be priced more consistent with the fluctuations in the wholesale power market, leaving you to try to figure out the best time to cook dinner, do your laundry, charge your electronics, or even run your air conditioning. The BLP rates are much more simple, consistent, and easier to calculate. More importantly, the total electric charges from the BLP are much lower.  
In 2016, the BLP lowered its base energy rates by 3% and then followed that with another 3% decrease in 2017 though the power cost adjustment factor (PCA). The PCA rate increases or decreases to account for variations in the actual costs of purchased wholesale power, keeping the utility fiscally responsible and affordable. The BLP has not increased rates since. In fact, our community-owned electric utility committed to holding these lower rates steady through at least 2021. Additionally, last year the power cost adjustment (PCA) was set to 0% until July 2021. The results are that the BLP's rates are now much more competitive that Consumers Energy. 
How much more economical is the BLP than Consumers Energy? 
The answer is a lot! Below in blue is what I paid in my actual Consumers Energy bills each month last year. I used the more simplified and easier to understand BLP rate structure to calculate what I would have paid as a BLP customer/owner.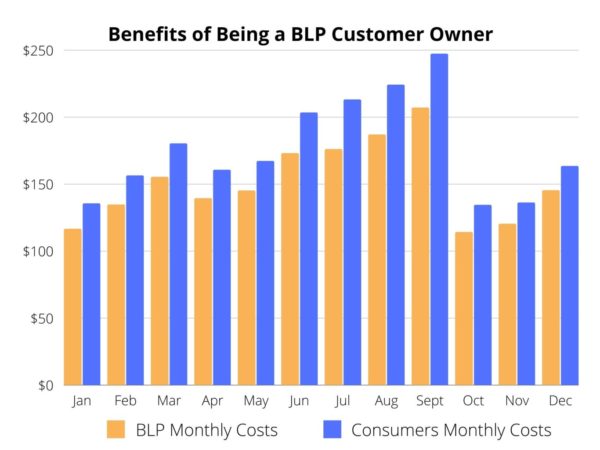 Here are a few key takeaways from comparing my Consumers Energy bills to the lower costs I would have paid if I were a BLP customer for the same usage.
My annual average amount billed was $27 or 17% higher per month on my Consumers Energy bill than what it would have been if I were on BLP.
My highest Consumers Energy billed amount was $247.17 as compared to BLP's calculated $207. My lowest billed Consumers Energy amount was $134.36, compared to what would have been $114.11 on the BLP.
My average monthly savings as a BLP customer would have been approximately 20% in the summer of 2020 and about 23% in January 2021.
My total annual savings in 2020 if I would have been a BLP customer with the same usage pattern would have been $327.73. That extra money would have been the equivalent of getting two months of power for free had I been on BLP!
The comparison illustrates that the nearly 13,000 residential ratepayers served by the BLP are able to keep a substantial amount of money in their own pocket every single month. These fortunate BLP customer owners do not just live in the City of Grand Haven, but also in Grand Haven Township, the City of Ferrysburg, Robinson Township and Spring Lake Township. Every month, our community saves in their electric bill by being served by the BLP.
This summary is not criticism against Consumers Energy. I think they are a fine company. Rather, this is a clear illustration as to the tangible benefits the BLP's municipal electric service provides. The business model of a for profit energy provider is different than the model of the BLP's which is not-for-profit locally owned and locally controlled. For the 13,000 local residents fortunate to be served by the BLP, they are saving money every single month by providing for their own energy needs. Way to go Grand Haven!
Erik Booth
Operations & Supply Manager
Grand Haven Board of Light & Power