Thursday, June 17, 2021, | Grand Haven, MI — The Grand Haven Board of Light & Power (GHBLP) has approved the Sims site redevelopment project and sale of 20-year utility system revenue bonds up to $50 million at Thursday's meeting. Aligning with GHBLP's recently approved strategic plan and 5-year capital improvement plan, these bonds will pay for the cost of the Sims plant demolition, recent substation and infrastructure improvements, environmental remediation, an Operations and Technology facility, and a Combined Heat and Power (CHP) plant on the Sims site on Harbor Island.
Jack Smant, chairperson of the board stated, "We have been listening to those in the community expressing concerns regarding the Board of Light & Power's redevelopment plan for the Sims site and we appreciate all the public's input. We have heard you and we understand your desires and dreams for that site and the development of a financially and environmentally responsible diversified power supply portfolio for the utility. We have also considered the recommendations of multiple studies from independent national engineering experts and each study has returned the same answer: diversify the BLP's power supply portfolio in the regional wholesale market, incorporate more renewables when it makes economic sense, supplement & compliment that portfolio with a small peaking CHP facility that can offset costs for our community when market energy pricing escalates, and lower our snowmelt system operating and heating costs in the process, if possible. The CHP plant is a very small portion of a much larger power supply portfolio and a component that has been fully vetted. The Board has now determined the Sims site redevelopment plan is the most balanced approach considering all community interests and it is the best possible solution for this environmentally challenging site." Smant added, "As a not-for-profit utility, our board has a mission and fiduciary responsibility to provide reliable, affordable, and sustainable power. This investment will keep our rates competitive and stable and set Grand Haven up for long-term sustainability and reliability in our energy future."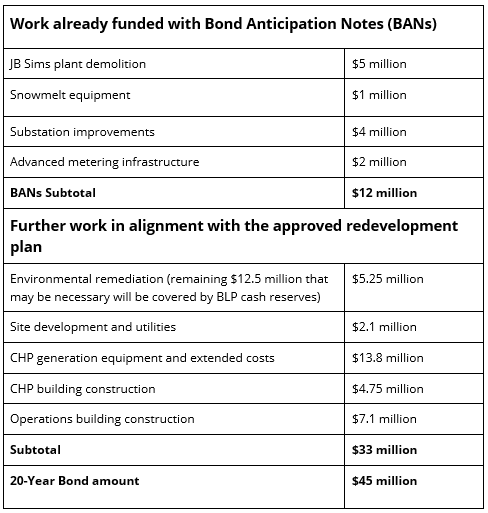 The approved bond authorizing resolution allows for up to $50 million to be issued if later determined appropriate (rather than using the BLP cash reserves for a portion of the project).
"Authorizing this bond issue represents the culmination of 5 years of careful strategic planning to diversify our power supply with the input of national experts and our community," said General Manager David Walters.
GHBLP plans to use the term-out provisions stated on the Bond Anticipation Notes (BAN) agreement until the new debt approved by the Board is issued. Walters also noted that without bonds being issued, electric rates would likely increase in order to pay for the work already funded by the BANs and additional necessary portions of the redevelopment project even if the CHP and operations facility was not approved.
"The proposed Sims site redevelopment plan, guided by experts in power supply, engineering, environmental remediation, architecture, finance, and rate planning, is specifically designed to balance the diverse interests of the community and stabilize and reduce rates for both residential and business customers," said Walters. "The alternative of buying solely from the marketplace without any local hedge will expose Grand Haven to future spikes in both capacity and energy costs."
Now approved by the Board, the bond authorizing resolution will be presented to Grand Haven City Council for their approval at their Monday, July 19th  session. If approved, the bonds will be underwritten by Bank of America, and are expected to be sold later this year. The bonds would be fully repaid with electric utility revenues generated through rates that were recently reviewed and established through a Cost of Service Study conducted by Utility Financial Solutions. No tax dollars are used to pay any operating or capital expenses of the electric utility.